Hello,
A friend of mine, Justine Mallon from the Summit Haus in Ashford, WA, recommended your food after I asked her what she ate on her Denali climb. I will be climbing Denali this spring so I have started to organize my meal plan. I was wondering if you have ever put together a Denali package that includes foods that are geared toward 21 days of mountaineering. They would have to be lightweight, full of energy and easy to cook/clean up. Maybe you have some suggestions for me?
Thanks,
Randy Tate
Whitefish, Montana
---
Hi there,
I ordered some of your dried meals for our boat prior to a sailing round the world record attempt. We were in France, you in Moscow, Idaho and it was not easy, but we did it and it was for the best. This record was done in a singlehanded way which means that our skipper was to sail the boat, obviously, as fast as possible, maintain the boat, do the navigation, send us some media material, and feed herself to keep her energy level up. This is where you did real good even though you weren't there...

The feedback from Ellen after her trip, that also ended up being a success, was awesome and all to your credit! Nothing is a more delicate subject than food for solo sailors. Often you have so many things to do hours on end that you end at some stage having to make a choice between eating a meal or sleeping for 20 minutes. The intake of food is there, for not a steady thing like in normal life, and the level of carbos, proteins and fat you take per meal has to be as high as possible because you don't know when your next meal will be and you will never be able to take as many calories as you have just burnt. The past has forced us to try various brands, some were ok, others less ok. You guys did pass the test with high marks and the doctor that did the first check on Ellen after the finish line was very pleased of her physical condition...that must mean something!

So anyway, I don't dribble on and on normally about this kind of stuff, but I thought I would let you know that we were very happy to do business with you and look forward to do more in the future. And that to see a high level of nutrition in dried foods topped by organic quality, we are very impressed. Thanks again for a good job done. Take care.

Oli Allard
Team Ellen Project manager

P.S. On Christmas Day, and as a gesture of solidarity, I had a serving of pasta while Ellen was battling down in the southern ocean. Well... it tasted good!
---
MaryJane,
Jim from Artic Treks sent me your e-mail. We just returned from a trip to the artic refuge with him and ate and very much enjoyed your food. Could you please send us any information you might have so we may order from you? We are interested in the 15 lb. bulk packs as we try to keep a large supply of food stuffs on hand. The Lentil Curry soup was fantastic good, and not just because it was cold and we were very hungry! We thank you in advance for any information you can provide.
Best Regards,
Doug Ray
---
To whom it may concern:
I write to express my appreciation of your wonderful backpacking food. Ordering from the website today, I was reminded of a long hike (two 8-day legs) on Minnesota's Superior Trail that I made in 2003. It was my first extended trip using your food, and I was very impressed. In short, it is the best damn backpacking food I have ever eaten, and I doubt I'll ever buy anything else. Every single item was great. Portion sizes were exactly right. Burning a strip from the package made it easy to prime and light my Svea stove (add that to your list of tips!). You guys even make a Chili-mac that tastes good. Unreal. I'm looking forward to eating your food again this year in the Ozarks and the White Mountains.
With very best regards,
John Anderson
---
Thank you!
I am extremely pleased with the service I received. It was easy to talk to the farmers and employees. I love your products.
I am excited for our trip to Zambia and Malawi.
Sincerely,
Zalika Eboni Merriman
---
Hi Nick,
I'm back from Norway after having completed the 36 mile cross-country classic ski race among 9,000 other skiers in late March. Most were Norwegians but also some 360 from over 20 other countries including 35 from the US (ID & MT skiers among them).
We, Carol and I, enjoyed the sample you sent of Black Bean Hummus as well as the other spicy instant treats. Great for car travel & quick meals in motels. My Norwegian friends liked the pea soup. You have some very excellent organic products we like. Keep up the good work.
Cordially,
Arne
Belgrade, MT
---
Hello,
Your Sicilian Polenta is beyond compare (don't tell my Italian great-aunt) but nearly impossible to find. Ye Old Country store catalog please!
Erika Langley
Seattle, WA
---
MaryJane,
I just wanted to write and tell you how good your food is. I finished off the creamy Mashed Potatoes that you sent. Every time I attempt to make mashed potatoes, they always turn out too thick, but yours were truly creamy. The refried beans were also really good. It's nice to be able to whip up a quick meal by just adding boiling water. Not only does it make a perfect outdoors meal, it's great for us college guys. The Eat Your Veggies is better than the few frozen store brands I've tried. I'm going to make the Chocolate Fudge Cookies soon. They sound great.
Ian Machan,
Gonzaga University
Spokane, Washington
---
MaryJane Butters,
Thank you for your recent box of goodies. I can't wait to try them. I have told my friends that I finally found some outdoor food that tastes good :)
Scott Davis
Seattle, WA
---
Hi MaryJane and Nick!
Just a quick hello, and many thanks for the great food. Things are good. Haven't had any good climbing weather yet, but we have been busy establishing a high snow cave and getting it stocked. At this point we have a tent down in the town of El Chalten (two hours easy hiking down a beautiful trail), a tent camp here at Rio Blanco camp, and now a snow cave camp high up at Passo Superieur (three hours up snow, if your pack is light and the wind is calm).
Having your instant pouch cook meals is a real boon in the snow caves where fuel is at a premium. In order to eat, we have to first melt the water and then heat it, and we go through at least one fuel cartridge a day up there. It's great to be able to make hot water and add a soup package in my tupperware bowl. The soup is 'cooking' while we're making more hot water for the next course. Since we don't have to waste fuel in boiling or simmering food, we get to eat more and faster. That's what we like!
A sad reality: it's too cold here to make our sprouts grow!! We've even tried sleeping with the Nalgene bottle in our sleeping bags. I think sprouts like a much warmer climate (sensible little creatures). But everything else is great. Here's a little recipe idea for you: mix Nextum baby cereal with your oats, and then add a little dried milk, sugar and cinnamon. Add hot water and let it 'cook' (rehydrate) itself. Yum!! If you have hazelnuts and sunflower seeds too, it's real luxury! And here in South America, they eat gallons of dulce de leche. It's kind of the equivalent of peanut butter in terms of availability and general all-purpose use (in candies, cakes, you name it). Sort of a brown, tasty creamy caramelized spread. It's the perfect frosting for the chocolate chip cookies from your line!
So we're definitely not starving out here... Hope you're both well, and thanks again. Steph and Dean
---
Just now used your backpack meals I got two years ago; they kept perfectly fresh and tasty. I hiked 8 days across Zion National Park and your back pack meals were my dinners. I enjoyed them all; particularly liked the Black Bean Soup and Split Pea Soup and the lemon bits in the no-cook Tabouli. I really appreciate everything about them: your writing on them, simplicity of directions, low-low fuel usage, variety/taste, ease of packing and disposing of packing (the paper is great for cleaning the dishes afterwards), lowfat, and organic. Bravo!

Mark Kruegar
Portland, Oregon
---
Dear MaryJane & the gang at Paradise Farm:

Recently, my wife and I went on a 2 month tour of the U.S. We called you up and asked your advise on how much food to bring with us since we were camping most of the way out. Well, after 11,000 miles and 2 months later, we came home well fed and totally happy with our ecocuisine experience. Your new dairy line is fantastic. Also, we turned many people onto your food. I will supply the addresses so you can mail them catalogs if you would please. One of our best experiences was waking up in Yosemite National Forest to your Outrageous Outback Oatmeal. Thanks so much. We're excited about the new catalog. If you need anything give us a call.


Mitch & Irene Joy
Gaithersburg, Maryland
---
MaryJane,

I discovered your products in an unusual way. A group of us were up from Florida late this summer, hiking in the Sawtooth Wilderness Area. We found a large zip lock bag on the trail which was packed with some of your products. It apparently had been dropped by a previous hiking group. We had been out on the trail for a couple of weeks and were running very low on food so we decided to serve them up. We tried your Tabouli, Hummus, and Salsa products. They were wonderful!

Our group does the majority of our hiking back East around the Appalachians. Where can I find your products in Georgia, Florida, or North Carolina? Can you send me a catalog of all of your products?

Merry Christmas,
Dan Neustadler
Tallahassee, Florida
---
Dear Paradise Farms:

I have found Paradise Farm's "Backcountry Food" to be an exceptional product that is pleasing to the palate and nutritious. That is quite an accomplishment given the fact that sometimes freshly prepared foods do not pass that test.

I have used Paradise Farm products during training and have never been disappointed. The knowledge that the ingredients for these products have been raised using organic methods is especially important to me.

Your past support of the International Arctic Project was instrumental in bringing us closer to our goal of increasing awareness of global environmental systems. On behalf of everyone involved with the International Arctic Project, I thank you for that support and your continued interest in our environment.

Sincerely,
Will Steger
International Arctic Project
St. Paul, MN
---
Dear Ms. Butters,

We are Peace Corp Volunteers/vegetarians in the Solomon Islands. It's a beautiful country but the traditional diet is low in protein, particularly if meat, poultry and fish are eliminated. My mother recently sent us two of your products-Black Bean Soup and Tabouli. The soup in particular is a great supplement to the local staple of baked sweet potato. Just wanted to let you know your products are being enjoyed in the 'backcountry'.

Rachel Tonsend and Ed Staples
South Pacific
---
Dear MaryJane,

Thank you for responding so thoroughly and with such encourgement to my inquiry. Your response really boosts my interest in eating better. I enjoyed reading your catalogue. It is very personable, and your stories inspire hope and faith and diligence. They are a testimony that life can be lived fully and wonderously. In reading, I feel rallied. Here's wishing you a bountiful harvest, in seed and soul.

Dory Neis
---
Hello,

I was out in New Mexico over the summer. I picked up a packet of your product. It was a vegan fry bread. I'm very interested in getting more of this stuff and seeing what your selection is. I have a whole bunch of friends who are into backpacking that DO care about how they eat. Unfortunately, I haven't seen a product like yours anywhere in this area. Can you send me a catalog so we can order direct from you?

Brian Duzy
Smithtown, NY
---
Dear MaryJane,

Thank you for organic, whole food products, cellophane wrappings and recycled soy ink packaging! I ran across a box of your Falafel in a friend's cupboard and had to comment on the quality of the product and packaging.

Thanks from Arcada!



Dear MaryJane (and Cindylou),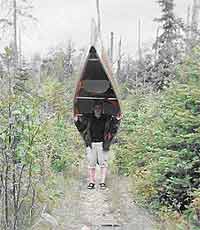 This past summer we used your food for our canoe and fishing trips. In the past we have had outfitters pack food for us, and the weight of the food packs are just too heavy. The food packed by the outfitters often requires way too much preparation, produces way too much trash, and tastes terrible (it often does not reconstitute well). Your food is much lighter, easier to cook, creates very little trash, and, best of all, it tastes like it was made right in our own kitchen. I am often frustrated when I go to outdoor stores for gear and do not find your food there, but find other brands (that the manger and the store purchaser knows is less quality food).
I have enclosed a picture of my outback wife who is the best thing that has ever happened to me. She is now 14 weeks pregnant and ready to bring another outdoors person into the world.
Thank you for your product,
Jamie

---
Dear MaryJane,

I was recently on a climbing trip to Colorado and had purchased two of your meals just before leaving. I did it primarily because of the serving size, not too big, not too small. I had never tried your products before and the meals sounded good. I prepared one of the Santa Fe Pasta at 12,800 ft in the bag. Much to my surprise NO CRUNCHIES! Plus it was very good.


Thanks,
Kevin Donovan
---
Dear MaryJane,

Thank you so kindly for your most heart-warming exquisite magazine.

It is a "de-stressing" format. Back to nature, the natural, the beauty of the heart and soul of it all.

It's an honor to have had an inside view of your farm; the activities, the land, the fruits of your labors and the staff that helps make it possible.

God bless you all,
De Bowman
Lewiston, Idaho

---
Hi. We used your food last year backpacking in Patagonia and we think it's the best prepared food we've ever had. We need another order by December 30 — we are going backpacking in New Zealand. Thanks and have a very Merry Christmas and Happy New Year.


Kathy Fraser
Riverside, CT
---
Greetings!

I placed an order with you several weeks ago based upon a recommendation from an online RV website. When it arrived, I put it in my RV. Saturday afternoon at our 4 o'clock munchies, I had the opportunity of sharing your corn salsa with a hungry group of RVing Women who were camping together. It was a huge hit.

I'm sure you've already thought about sales to RVers since we're such a huge market and weight is a priority for most of us.


Good work, everyone!
Adrienne Kristine

---
Hi MaryJane,
On a recent backcountry trip down near Navajo Mountain, Ariz., we got a small but hot piñon fire going. We found two perfectly flat pieces of red sandstone and laid one right on the coals. We then took your Garlic Pesto Fry Bread and squeezed out the whole bag onto the ungreased hot stone. After the bread started rising, we carefully put the other flat rock on top. After 15 minutes or so, we lifted the rocks off and had these perfect golden brown loaves. Oh my! The three of us went through four bags that evening. OK, enough for now. I'm getting hungry...
P.S. Your Outrageous Outback Oatmeal is GOD IN A BOWL!
Roch Horton
Patagonia Sales Representative
---
I've tried a multitude of backpacking foods, both freeze-dried and dehydrated. Your selections are a breath of fresh air. I'm not a vegetarian, but your food could certainly persuade me to start. I was genuinely distressed to learn that MSR is discontinuing your line of food to the backpacking shops, but now that I've found you on the Net, who cares. I'd rather buy from the source anyway.
Keep it up, and thanks for doing such a fine job.
Greg Coffman
Harrisonburg, Virginia
---
Dear Ms. Butters,
We wanted to tell you how much we enjoy your absolutely delicious backpacking food! We've been backpacking for over 15 years and usually the tasteless backpacking food drives us out after about six days out. Now we hike for about two weeks, thanks to your healthy, tasty and interesting meals. It has made our trips so much more pleasant. We especially love your Chilimac, Couscous & Lentil Curry, Minestrone Couscous, Alfredo Pasta, Red Pesto Pasta, Spuds w/Spinach and Cheese, and ALL of your breads (what a treat!)
Thank you, thank you, thank you, you've made our backpack trips so much happier! Best regards,
Kim & Sam
---
Here's a backpacking tip for MaryJanesFarm breads and backpacking baked goods. They taste good on or off the trail. The herb bread and brownies won the taste test at my house. As we were doing our taste test at home, we didn't want to dirty our muffin tins, so we broke out the paper cupcake liners. This also worked beautifully on the trail as they are lightweight and can "bake" in a container next to the fire. While a convection oven is the best, any container you can cover and put by the fire works well. Using the cupcake paper liners saves the need for a pan and oil. So, for those who like to eat well and travel light, the cupcake liners work well. Happy Trails!
Karen Brooks
Interim Marketing Manager, North Coast Co-op
Arcata, California
---
My climbing partner loves you and would like to have your baby! Well not quite, but your food ROCKS! It kept us alive in Patagonia and Antarctica on a three month expedition. As health conscious, eco-minded vegetarians, we were thrilled to find an alternative to pre-packed commercial camping food. Keep doing what you do! Thanks for all the yummy memories,
Cherie Stamm
---
Hi Nick,
I'm back from Norway after having completed the 36-mile cross-country classic ski race among 9,000 other skiers in late March. Most were Norwegians, but also some 360 from over 20 other countries including 35 from the U.S. (Idaho and Montana skiers among them).
Carol and I enjoyed the sample you sent of Black Bean Hummus, as well as the other spicy instant treats. Great for car travel and quick meals in motels. My Norwegian friends liked the Pea Soup. You have some very excellent organic products. Keep up the good work. Cordially,
Arne
Belgrade, Montana
---
We just wanted to let you know that your Couscous & Lentil Curry is unparalleled in taste! Keep up the great products, we can't get enough!
Tim and Betsy Adkison
Idaho Falls, Idaho
---
Dear MaryJane,
Last year my husband and I went on backpacking trips throughout Idaho, Colorado, Utah, Arizona, Wyoming and Montana. On our trip through one of those states, we picked up some of your Garlic Pesto Fry Bread. It was the best garlic fry bread I had ever had, as well as being very easy to make up in the backcountry.
My husband and I live in San Rafael, Calif., which is just north of San Francisco. Because we enjoyed the bread so much, I wanted to find out if you had any distributors in the area or a catalog that we could order from. I also would like to see what other products are available for our future backpacking trips.
I hope your business is doing well. I appreciate your time and I look forward to hearing from you. Sincerely yours,
Tracy Payne
San Rafael, California
---
I received my order on Tuesday, April 11, 2000. Everything seems to be in order. Thanks for the very professional protocol. I have been a fan of your product line for the past six months and thank you for your integrity and customer sensitivity. With confidence and approval, I will recommend your business to all who are interested.
Sincerely,
William Schoenberg
---
Hi MaryJane and everybody.
Just wanted to thank you for your help on the phone a little while ago about gluten-free products. My wife Sylecia has Celiac's Disease and it can be a nightmare finding foods that she can eat when we're not at home. This is true in general, but finding something that we can take hiking that doesn't require several hours a day of preparation promised to be nearly impossible, especially considering that we generally try to eat organic foods whenever possible. Your products are truly a gift from the camping gods. And fortunately, there are two or three places around here that carry them.
Thanks again. We'll be thinking of you while we explore Zion for the next couple of weeks.
John McLaulin
Sylecia Janutolo
---
Dear MaryJane,

I am writing at Creek Cabin, 16 miles up the West Fork of the Gila River in the world's first designated wilderness area. It is a good place for a wilderness ranger to enjoy your Kettle Chili.

My name is Lucas Cox and this is my first season as wilderness ranger; for this, and for the opportunity to test your simple food, I am thankful.

Buying organically grown food, to me, is one of the single most effective means of environmental conservation. For me, one who picks tiny bits of aluminum out of fire-rings, this food choice makes my low impact lifestyle that much more effective.

Again, I thank you and encourage your efforts.

Sincerely,
Lucas Cox
Silver City, New Mexico
---
MaryJane,
Greetings from Erie! The first and last time we communicated, it was 3:00 a.m. Idaho time and you were awaiting a call from your daughter. Sorry to interrupt your sleep! My trip to the Adirondack High Peaks was immensely enjoyable. I hiked solo and spent four days trudging over 10 peaks. Thank you for the Lentil Soup. It was very tasty. I am eager to try other Paradise Farm organic food. I will follow with an order. Greg
Dear MaryJane,
Thank you so much for putting together the box of Backcountry Food packets for us for our trip. You and they were life savers. We lived on your foods the whole two weeks — probably ate out only twice. It was great. Our favorites are the Chilimac, Alfredo Pasta, East African Pea Soup and the Garlic Pesto Fry Bread. (The last two make a wonderful supper together.) I left one of your catalogs at a little "healthy foods" store in California called 'Noah's Ark'. Nice place.
We love your foods. I also cooked them for myself after Tracy and Dave came home and I was by myself — so easy, so good.
Thanks again,
Lauren Fins
Moscow, Idaho
---
Dear MaryJane,
I noticed a few years back, prior to the sale of my farm, that many seagulls (at least 100) would follow my neighbor's plows and harrows. None would follow mine. On close examination, I found his corn ground full of life with bugs, worms, grubs, etc. My corn ground was void of all life; just dead. I had my corn fields sprayed at the two and one-half pound rate with atrazine for at least the prior 10 years.
My neighbor cultivated his corn; he never sprayed on weed control. All other factors remained the same.
I thought this might be of interest to you and your group.
White River Junction, VT